History
As one of the world's giants in the iron and steel industry with 25 manufacturing sites on three different continents, Tosyalı Holding dates back to 1952, when Şerif Tosyalı, the father, began manufacturing hand-work stove-pipes and boiler-buckets with his three sons in a 9-meter-squared shop in İskenderun. In 1988 these three young and hardworking brothers, Fuat, Ayhan and Fatih Tosyalı learned this profession from their father, sweating blood while taming the hammer, and took over the workshop and founded Tosyalı Metal Ticaret [Tosyalı Metal Trade].
1993 marked a milestone for the three brothers who followed the same path with their father in trade. Strengthening their presence in the market the same year, the Tosyalı brothers rolled up their sleeves to turn the Tosyalı Demir Çelik Industry Inc.'s investment idea into reality. Building the first factory of the group on the İskenderun Organized Industrial Site took a year and it commenced production in 1994. Steel manufacturing in the factory's rolling plant had begun, and after a year angle iron was also included in the manufacturing portfolio.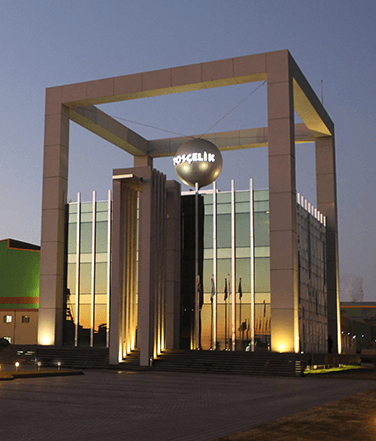 Companies Under Tosyalı Holding's Umbrella
In 1996 the Tosyalı brothers took their first step into foreign markets to become a global actor and founded Tosyalı Foreign Trade Inc. This was the time for new investments for Tosyalı, which were carried out and requested in a short time in the market, using their long-standing manufacturing and trade experience. Tosçelik Profil ve Sac Endüstrisi Inc., which has become a brand today, began manufacturing on the İskenderun Organized Industrial Site in 1997. In 1998, all the sub-companies were gathered under the umbrella of Tosyalı Holding and the process of institutionalization accelerated.
The 2000s can be seen as the "golden age" of manufacturing in the history of Tosyalı Holding. Pipe manufacturing began with the Tosçelik Galvanized Pipe Manufacturing Site, whose foundations were laid in 2002, and manufacturing began in 2004. After a year, the Tosçelik Natural Gas Installation Pipe Manufacturing Site also went live promoting a new manufacturing site in Tosçekil Granule Industrial Inc., whose foundations were laid in 2006.
The increase in manufacturing brought an increase in exports in accordance with Holding's vision and the export volume of Tosyalı Holding reached $800 million in 2006. Tosyalı ranked among Turkey's top 100 companies for highest export volumes in the same year. Tosyalı Holding is expanding its foreign market in seven continents and increasing export volumes with its value-added and quality products day by day.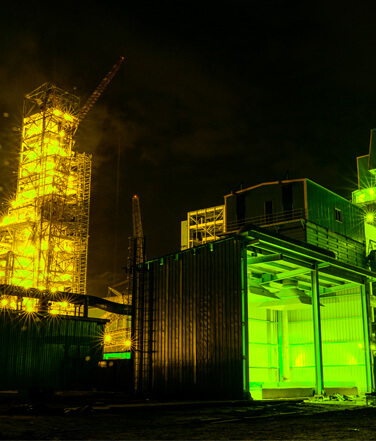 Investments Never Decrease
In 2009, Osmaniye Spiral Welded Steel Pipe Facilities and Tosçelik Osmaniye Flat-Structural Steel Manufacturing went into production. Thus, fluid steel and billet production were also included in the product range. In November of the same year, the hot rolled plant was put into use and hot rolled manufacturing began. The İstanbul Dilovası Steel Service Center launched services with the aim of serving customers in the Marmara Region from a closer location.
In 2010, Tosçelik Flat Steel Manufacturing Facilities, the first flat steel manufacturing site across the Turkish private sector, was inaugurated by Recep Tayyip Erdoğan, who was the esteemed prime minister at the time.
Taking cautious steps on the journey towards becoming a global Turkish steel manufacturer and starting to manufacture industrial pipes and box sections within Tosçelik Section and Hot Rolled Industrial Inc., Tosyalı Holding has been rewarded many times for its success with true investments and popularity within the sector, among non-governmental organizations and business organizations.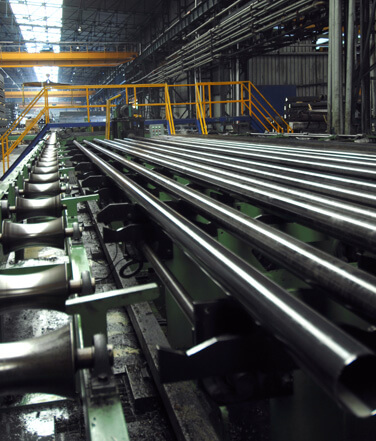 5,000 Meters of Pipe Per Minute
Marking an achievement of more than ten manufacturing sites within ten years, Tosyalı Holding both opened new plants in 2010 and amplified its power for capacity increase.
Today, Tosyalı Group is Turkey's global steel manufacturer with its twenty-five manufacturing sites, including associates and joint ventures in three different continents and countries, gathered under the umbrella of the Tosyalı Holding Inc. in Turkey. It also holds the title of the most rapidly growing company and has an annual manufacturing activity of more than 6 million tons.
Empowering its foreign network and increasing its export volume during this period, Tosyalı Holding started to receive demands for international projects. The holding became the biggest pipe supplier of the Trans Anatolian Natural Gas Pipe Line (TANAP), one of the greatest recent international projects, thanks to its ability to manufacture more than 5000 meters of pipe per minute.
Fulfilling its commitments fully and pre-maturely in the TANAP tender, and described as the project of the age and characterized as the Silk Road of energy, Tosyalı Holding is also the only provider of the BRUA Natural Gas Pipe Line, one of the greatest projects of Eastern Europe that connects Bulgaria, Romania, and Austria.
Besides its numerous great projects in Turkey, Tosyalı Holding became the biggest pipe provider for the North African countries.
Driven by its core principles from the very beginning, despite the fierce global competition, Tosyalı Holding has been building its presence upon this very foundation. Both the rivals and shareholders have described it as a "reliable brand", which brought further investment and production opportunities at Tosyalı Holding.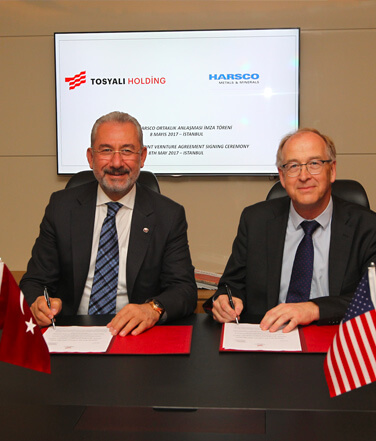 World's Giants in Turkey and Tosyalı Holding's Foreign Partnerships
Tosyalı Holding attracted the world's giants by attaining successful investments, steady growth and value-added products, and offering production opportunities that can be accessed wherever needed. It undertook significant partnerships in the league of giants, turning that attraction into tremendous investments. Within this framework, a co-investment agreement was signed between Toyo Kohan, one of the leading companies both in Japan and the world, and Tosyalı Holding in 2012. Later in 2017, Tosyalı Toyo launched manufacturing operations in Osmaniye. Having started to export to many countries soon, Tosyalı Toyo plant manufactures tin, galvanized sheet, painted sheet, cold rolled sheet, and acid-oiled roll.
The second international agreement was concluded with American Harscho, another world giant, in 2017, and the company went live on the New York stock market. As part of this agreement, slag stocked passively in iron and steel factories were turned into value-added products for the first time in Turkey, contributing significantly to the Turkish industry and economy. The construction of the Tosyalı Harscho plant began in Osmaniye, and production operations were launched towards the end of 2018. The site aims to collect slags from all iron and steel plants in Turkey, not only their own but all of the others, to boost the country's economy.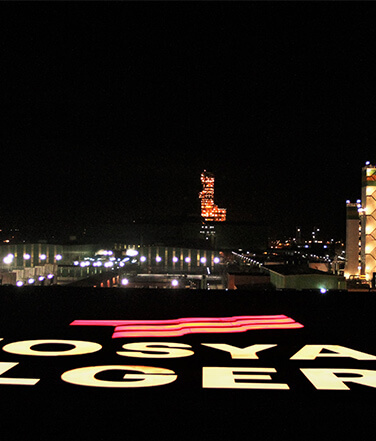 Manufacturing Across the Continents: Production in Three Continents, Sales in Seven Continents
Tosyalı Holding has inevitably become a global player, now setting eyes on the "Champions League". To this end, the decision for the first investment in Algeria was taken after feasibility works were undertaken in various parts of the world.
Being Turkey's greatest investment in foreign markets, the foundations of Tosyalı Algerie were laid in 2011. The last phase of this six billion dollar project, which is planned in four stages, has now been launched. The first stage of this investment was completed in 2013, and the second in 2015. As of 2018, manufacturing operations were launched for the third phase, while the investment in the fourth stage, which is planned as two phases, continues. The plant currently manufactures billet, iron rod and wire rod. While steel is made out of scrap at the first two plants, steel from iron ore are manufactured after the completion of third phase investment.
Another of Tosyalı's foreign investments is in Montenegro. The modernization investment of the Zelijezara AD Niksic factory, an iron and steel manufacturer purchased in Montenegro, was completed in 2018 and the factory maintains manufacturing and sales operations at a great pace.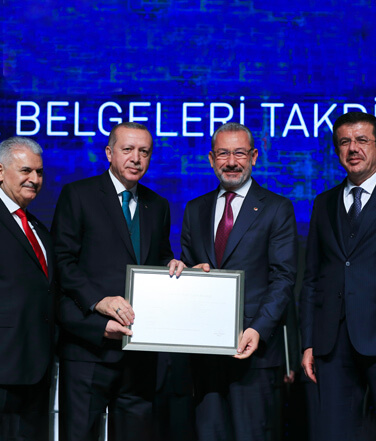 The Biggest Investor in "Project-Based Incentive System"
As one of the biggest investors in "Project-Based Incentive System" declared by President Recep Tayyip Erdoğan in May 2018, Tosyalı Holding is preparing to build a new integrated plant in Osmaniye within the framework of this incentive.
Tosyalı Holding will be the first private sector company to manufacture steel from ore with the Integrated Mining Project, which will serve an antidote for the current deficit, with an investment worth seven billion dollars and three-billion-dollar support. As part of this project, with ongoing investment plans, the company aims to launch the construction soon and deploy the product at the end of the third year. Aiming to manufacture 8 million tons of steel including stainless steel when the planned investments are completed, Tosyalı Holding will have reached a manufacturing capacity of over 20 million tons.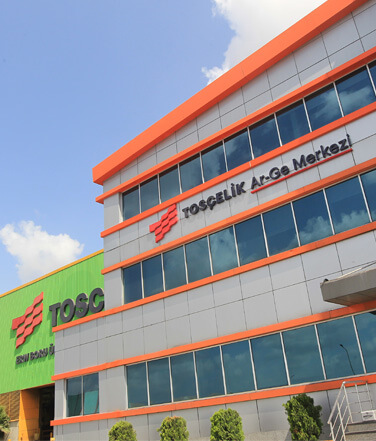 Holding Centers Are Its R&D Power: The Osmaniye R&D Centre
By exercising due care in the renovation of the manufacturing processes, improving value-added manufacturing technologies, and working on product development simulations and modelling works, Tosyalı Holding has gathered all its R&D studies together under one umbrella, a plant in Osmaniye. The Tosçelik Profile and Sheet Industry R&D Center is the center for the research and development studies of more than twenty manufacturing plants. Sustaining its cooperation with TUBİTAK and other universities in the region, the Holding cemented its power as a global steel company with this significant objective, while expanding its activities on developing top notch next-generation steel products, alongside its patent and industrial design activities worldwide.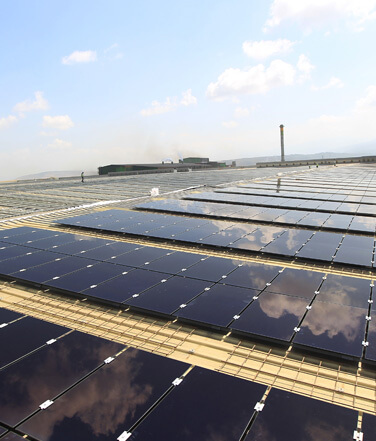 Bring Steel Together with the Sun: Clean Manufacturing
Production operations began at the the roof type "Sun Energy Power Plant" (GES)", built by Tosyalı Holding, which invests considerably in energy as one of the most important production fields. Built on the ERW site, the power plant is one of the five biggest GES across the world, in its own segment, and the biggest in thin-film solar roof installations. Thanks to the renewable clean energy produced by the power plant, 10,000 tons of C02 emissions have been eliminated.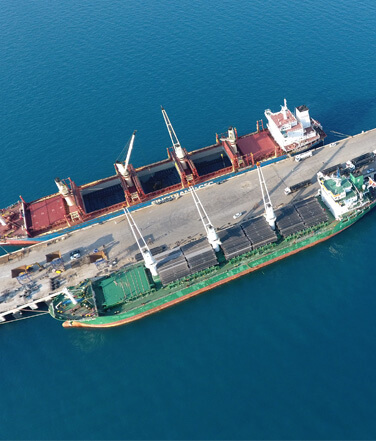 İskenderun and Erzin Ports
Located in İskenderun, the second Organized Industrial Site opened in 2018. Iskenderun Port can serve domestic and foreign ships with ISPS and Compliance Certificates for Hazardous Substances. This port, which can handle up to twelve ships depending on their size, has a 4.5-million-ton capacity for bulk and 3.5 million ton general cargo that gives a total handling of 8 million tons/year. Benefitting both Tosyalı Holding and other industrialists in these regions in terms of access and logistics, this port contributes a significant amount to the country's export activities.
Another port project, which is still under construction and planned to be completed in 2023 is Erzin Port in İskenderun. This port is to be active in the near future and will have a capacity of 2-million-TEU/year containers, 10-million-tons/year bulk and general cargo and 500.000 m3/year fuel oil handling. Ships with a size of at least 1,000 DWT and at most 180,000 DWT will berth and relevant docks will be protected by southern and northern breakwaters.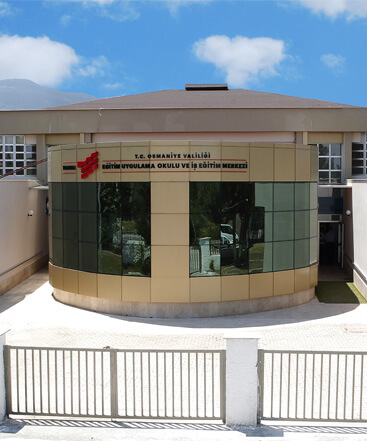 Sector Leader in Corporate Social Responsibility
Tosyalı Holding always remembers its responsibilities towards its own people, region, and environment and has been continuing to undertake corporate social responsibility projects over many years. The Holding's fundamental approach in this regard involves with using the world's resources productively; acting sensitively for social issues; contributing to the development of human resources in our country; and cooperating with relevant institutions, organizations, and NGOs, thus playing its own part.
The group companies operating in line with the "Tosyalı for Life" motto sustain their ranking on the lists prepared by long-standing research companies, as well as on sectoral research publications based on various criteria. They are entitled to various leadership awards and grand prizes.
"Turkey is a developing country, and we are aware of the huge importance of the economic growth. However, it can only be sustained through social responsibility values. We believe that economic and social growth must always be balanced and pushed hand in hand. At TOSYALI Holding, we have always preserved our core values while investing," says the President of the Holding. As part of the social responsibility projects:
He was awarded the Certificate of Honor of Presidency for his contributions to "Health and Education" in 1999.
In 2015, he ranked 4th in the list of Turkey's First 50 Golden-Hearted Leaders, Donating Mostly by Capital Magazine.
In 2016, he ranked 4th in the list of Turkey's First 50 Golden-Hearted Leaders, Donating Mostly by Capital Magazine.
In 2017, he ranked 3rd in the list of Turkey's First 50 Golden-Hearted Leaders, Donating Mostly by Capital Magazine
In 2018, he ranked 3rd in the list of Turkey's First 50 Golden-Hearted Leaders, Donating Mostly by Capital Magazine.
In 2018, he was assigned as a member of Turkey's Wealth Fund Board.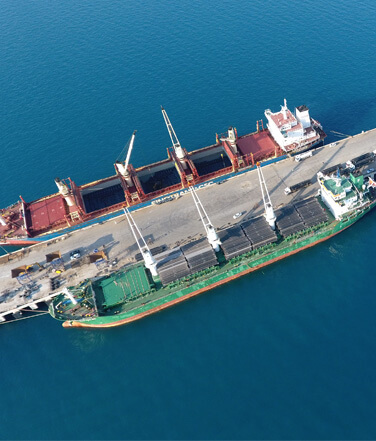 Main Corporate Social Responsibility Projects of Tosyalı Holding :
TOSÇELİK SCIENCE HIGH-SCHOOL - İSKENDERUN
TOSÇELİK SOCIAL SCIENCE HIGH-SCHOOL- OSMANİYE
M. FATİH TOSYALI ANATOLIAN İMAM HATİP LİSESİ AND MALE STUDENT DORMITORY - REYHANLI
TOSYALI TRAINING PRACTICE SCHOOL AND BUSINESS TRAINING CENTER- OSMANİYE
E. AYHAN TOSYALI TRAINING PRACTICE SCHOOL AND BUSINESS TRAINING CENTER - İSKENDERUN
TOSYALI MOSQUE TRAINING AND CULTURE CENTER– OSMANİYE
LIBRARY - EDREMİT / BALIKESİR
LIBRARY- KANDİLLİ / İSTANBUL
E. AYHAN TOSYALI FEMALE STUDENT DORMITORY AND INDOOR SPORTS HALL- REYHANLI
HACI PERVİN TOSYALI AFFECTION HOUSES - İSKENDERUN
HACI ŞERİF TOSYALI FAMILY HEALTH CENTER- İSKENDERUN
OSMANİYE RED CRESCENT HOUSE
İSKENDERUN RED CRESCENT HOUSE
TOSYALI AZGANLIK MOSQUE - İSKENDERUN
TOSYALI MOSQUE - BELEN
HACI ŞERIF TOSYALI MOSQUE - İSKENDERUN
TOSYALI MOSQUE - ORAN/ ALGERIA
TOSYALI SPORTS HALL- OSMANİYE
FUAT TOSYALI YOUTH AND SPORTS CENTER – İSKENDERUN
TOSYALI-TOYO OSMANİYE FEMALE BASKETBALL TEAM SPONSORSHIP
BEY KONAĞI RESTORATION - ORAN/ALGERIA